Restorative Dental Care Here in Rochester Hills
We know that even when you do everything right, something can go wrong. If you are suffering from a dental problem, we are here to help. Modern technology combined with the in-depth experience of our clinical team can assure you of a successful & long-lasting result. Whether the cause is an accident or disease, we can restore your smile.
Same-Day Crowns
Dentures
Dental Implants
Same-Day Crowns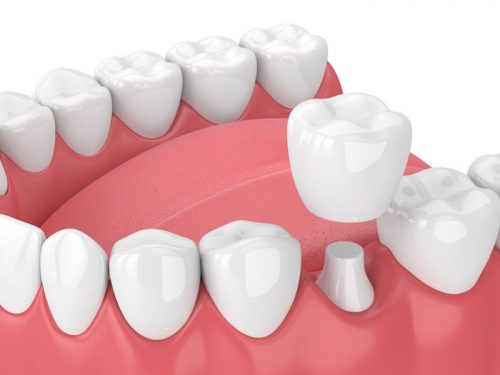 With modern advances in dental technology, the days when it took three visits just to get a dental crown are long gone. Leading-edge dental equipment now make 3-D scanning, computer modeling & automated milling available right in the dental office so there's no more waiting for crowns to come in from a separate dental laboratory. Instead, custom crowns (& other dental restorations) can be crafted immediately, with no need for temporaries or multiple visits. With the precision of 3-D technology, these restorations are as accurate as they ever have been before. Offering same-day crowns is part of our dedication to making dental care as convenient & comfortable as possible for our patients.
Dentures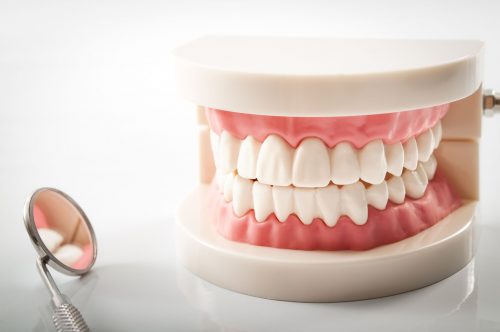 If you've lost teeth from decay, injury or periodontal (gum) disease, dentures are the solution. Whether you need partial or full dentures, they're essential not only to improve the look of your smile but also your oral health. In addition to allowing you to eat as if you had never lost your teeth, dentures also protect against facial sagging that would otherwise occur & cause a more aged appearance. Dentures can also improve your speech. Denture maintenance combined with a regular regimen of proper brushing can guarantee you'll lead a more comfortable & healthy life.
Please call us at Warner Dental Care today to discuss if dentures are the right option for you!
Dental Implants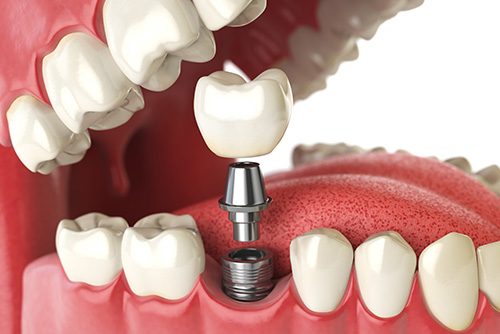 Dental implants are man-made replacements for natural teeth. The implants themselves are artificial tooth roots anchored in the gum or jawbone, on which replacement teeth are permanently secured. Because implanted teeth are fixed in the mouth—rather than being removable, like dentures—they allow a return to the comfort & function of natural teeth. Increased chewing ability means you can enjoy more nutritious foods, contributing to your overall health & well-being. In short, dental implants improve the quality of your life. They can improve your appearance, boost your self-confidence & allow you to speak with greater clarity. This restorative dentistry treatment can be finished in three to five visits over the space of about 4–8 months.
Not all patients are eligible for dental implants. Generally, you must be in good general & oral health to be a candidate for implants. Those who are undergoing cancer treatment, have uncontrolled diabetes or uncontrolled periodontal (gum) disease, may not be eligible for dental implants. These conditions can affect whether the dental implant can be properly secured into the bone of your jaw, & can also affect post-operative outcomes. In creating your dental implant treatment plan, the dentist will assess all of the relevant health factors & advise you accordingly.
Because dental implants are a permanent solution & don't need to be adjusted, refitted, or replaced, they are often a more cost effective in the long run than bridges or dentures. We understand that many patients have concerns about the cost of dental implants, & while the initial cost may seem high, having a permanent replacement for your teeth may ultimately mean you pay less for dental care in the future. Dental implants can help prevent future dental problems, especially the gradual bone loss in the jaw associated with missing teeth. Dental implants are a great investment in the long-term health of your smile. If you are interested in dental implants but have concerns about the cost, we encourage you to talk to us about your financial options.
The Proof is in Our Patients

" Rarely do you hear anyone say they look forward to going to the dentist, but dare I say that I do here! Everyone remembers my name even though they must have thousands of clients, the facilities are immaculate, the practitioners are genuinely interested in your life and health, and they offer you warm cookies and other free amenities. I live in Seattle now, but I still schedule a dentist appointment here every year when I come back to Michigan for Christmas!"
"I really hate going to the dentist. Saw Dr Warner for my first time for a dental repair. I was so nervous, not knowing what to expect. Dr Warner and his staff put me at ease as soon as I arrived. The care was superb."
"I have had extensive dental work done over the past 40 years and Dr. Warner and his staff are the best. I don't think there is a better place to go for dental care. And I would have left the same comment without the great cookie."
"I love going to the dentist now! Doctor Warner and his staff are absolutely the best. They are professional and friendly and their work is fabulous! I recommend them to anyone who wants a wonderful dental experience! "
Open Daily For Your Convenience!
Monday: 8:00 am – 6:00 pm
Tuesday: 8:00 am – 5:00 pm
Wednesday: 8:00 am -6:00 pm
Thursday: 8:00 am -5:00 pm
Friday: 8:00 am -1:00 pm