Family Dental Care Here in Rochester Hills
At Warner Dental Care, we practice dentistry for the entire family. We understand that adults & children have different needs & we address them all. Adults want the best technology, the most informed doctors & the highest-quality care, while kids want to be comfortable & respected. We offer the best of both worlds. Best of all, our dentists have extensive experience working with children & teens, so we can make the dental experience more enjoyable for everyone.
Teaching your kids the right way to take care of their smile is very important. Dr. Warner would be glad to give both you & your child the oral hygiene education you need it to keep you clean & cavity-free. Begin daily brushing as soon as the child's first tooth comes in. A pea-sized amount of fluoride toothpaste can be used after the child is old enough to not swallow it. By age 4 or 5, children should be able to brush their own teeth twice a day with supervision. This supervision should continue until about age 7, in order to make sure they are doing a thorough job. However, each child's progress will be different. Flossing removes plaque between the teeth, where a toothbrush can't reach. Flossing should begin when any two teeth touch. You may wish to floss the child's teeth until he or she can do it alone. Don't forget behind the four teeth in the back!
These oral hygiene tips are important, especially for your kids. By educating them at a younger age, they'll have the correct knowledge to provide them with a lifetime of excellent dental health! Call Warner Dental Care for your appointment & consultation today!
Orthodontics for Kids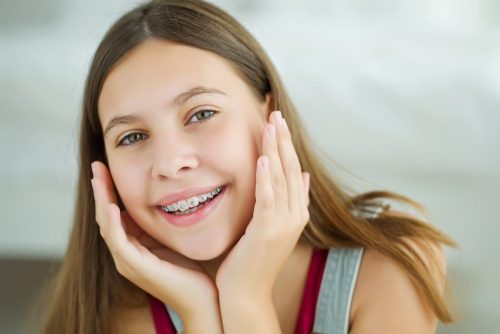 Having straight teeth is important for both health & appearance. Not only does Warner Dental Care offer traditional metal braces, but we also offer newer & subtler varieties. One option is clear braces, which straighten teeth without calling attention to the fact that your child has braces. The aesthetic aspect is important, especially to teens, because having a smile you love can affect your happiness & self-esteem. To learn more about our orthodontic options, please contact Warner Dental Care today!
The Proof is in Our Patients

" Rarely do you hear anyone say they look forward to going to the dentist, but dare I say that I do here! Everyone remembers my name even though they must have thousands of clients, the facilities are immaculate, the practitioners are genuinely interested in your life and health, and they offer you warm cookies and other free amenities. I live in Seattle now, but I still schedule a dentist appointment here every year when I come back to Michigan for Christmas!"
"I really hate going to the dentist. Saw Dr Warner for my first time for a dental repair. I was so nervous, not knowing what to expect. Dr Warner and his staff put me at ease as soon as I arrived. The care was superb."
"I have had extensive dental work done over the past 40 years and Dr. Warner and his staff are the best. I don't think there is a better place to go for dental care. And I would have left the same comment without the great cookie."
"I love going to the dentist now! Doctor Warner and his staff are absolutely the best. They are professional and friendly and their work is fabulous! I recommend them to anyone who wants a wonderful dental experience! "
Open Daily For Your Convenience!
Monday: 8:00 am – 6:00 pm
Tuesday: 8:00 am – 5:00 pm
Wednesday: 8:00 am -6:00 pm
Thursday: 8:00 am -5:00 pm
Friday: 8:00 am -1:00 pm