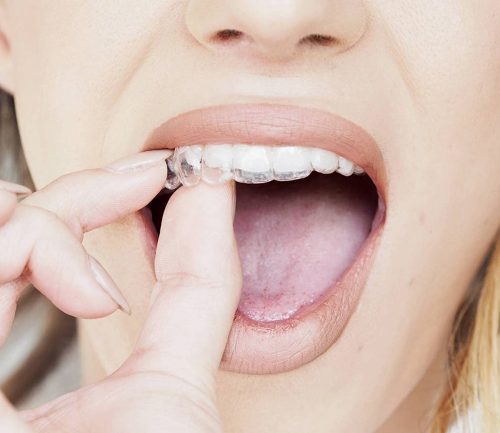 Invisalign® is the revolutionary way to help you get even, straight teeth without noticeable, painful metal braces. Virtually undetectable, Invisalign® aligners are made of strong, clear plastic & gradually guide your teeth into perfect alignment. Unlike metal braces, they have no wires or brackets. Tooth impressions are made, from which Invisalign® develops customized aligners that will slide directly over your teeth. Aligners are typically worn full-time (except when eating or drinking) for 12-48 months—no longer than you would wear traditional metal braces. Aligners are replaced every two weeks as your teeth shift into place.
From very mild misalignment to more difficult orthodontic issues, there are a number of Invisalign® treatment options to help you achieve a healthy, beautiful smile.
Your Invisalign® treatment begins by scheduling a consultation with our team, in which we will discuss your individual case & treatment options, costs & insurance options, as well as any other questions you may have pertaining to the treatment.
We will then take impressions & x-rays, creating a 3-D digital image of your mouth & jaw. This will help the doctor visualize exactly how long your treatment may span, as well as a digital visualization of the realignment phases. You will receive your own personalized clear aligners, made of smooth, BPA-plastic free materials. They will be switched out every two weeks to accommodate your new smile!
Although each Invisalign® case is different, it is common for adult treatment to last about a year. For teenagers, the treatment length is similar to that of traditional orthodontic methods—but the best part about Invisalign® is that you're able to see the treatment process in effect because of the clear aligners. Your aligners should be worn for at least 20 to 22 hours a day in order for the treatment process to be fully effective.
Call today to schedule your Invisalign® consultation.
The Proof is in Our Patients

" Rarely do you hear anyone say they look forward to going to the dentist, but dare I say that I do here! Everyone remembers my name even though they must have thousands of clients, the facilities are immaculate, the practitioners are genuinely interested in your life and health, and they offer you warm cookies and other free amenities. I live in Seattle now, but I still schedule a dentist appointment here every year when I come back to Michigan for Christmas!"
"I really hate going to the dentist. Saw Dr Warner for my first time for a dental repair. I was so nervous, not knowing what to expect. Dr Warner and his staff put me at ease as soon as I arrived. The care was superb."
"I have had extensive dental work done over the past 40 years and Dr. Warner and his staff are the best. I don't think there is a better place to go for dental care. And I would have left the same comment without the great cookie."
"I love going to the dentist now! Doctor Warner and his staff are absolutely the best. They are professional and friendly and their work is fabulous! I recommend them to anyone who wants a wonderful dental experience! "
Open Daily For Your Convenience!
Monday: 8:00 am – 6:00 pm
Tuesday: 8:00 am – 5:00 pm
Wednesday: 8:00 am -6:00 pm
Thursday: 8:00 am -5:00 pm
Friday: 8:00 am -1:00 pm